Living the Truth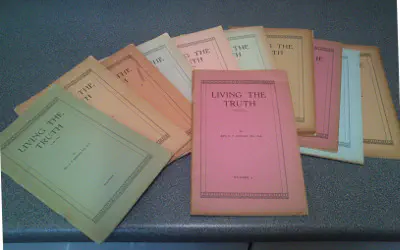 C P Bowler wrote a series of booklets aimed at high school students in New Zealand.
They make an awesome introduction to Thomistic Philosophy and general Catholic teaching.
Each week I'm endeavouring to make up a worksheet with Exercise A of each chapter. The last page of each pdf has the answers.
New: Workbook for Vol 1 covering the first 5 chapters.
I'm not sure of the copyright of the booklets. A teacher has scanned in and converted the entire series to word doc files, one for each chapter. Here they are concatenated into one 884 page PDF I will finally accept that I am terrible at asking permission for clearing copyright and will link what I have here for now and if anyone has a problem with that, I have a contact page you can use to get in touch.
UPDATE: I have contacted the Marist Archives in New Zealand and the whole work is considered out of copyright.
I can probably get the page count down under 800 for printing through Lulu. It may take a bit of work.