Farewell Alleluia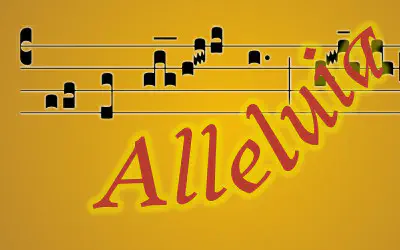 Late last year I thought I'd make some resources for each Sunday's Latin Gospel reading. It's been fun. It does tend to make me confused though, as I am often thinking about the reading for the following Sunday. Thus I somehow thought last Sunday was Septuagesima.
This has been good though, as I have been able to think about the Farewell to Alleluia before it disappears.
Many years ago, I wrote a short article for Corpus Christi Watershed on this Farewell. At the bottom, the editor Mr Jeff Ostrowski left this cryptic comment.
Editor's Note • There is actually an entire (liturgical) hymn which says "farewell" to the Alleluia. The Campion Missal cites a few verses in a very subtle way. Here's a challenge: Did anyone notice which page? Which page number? Let us know by using the CONTACT tab at the top.
I totally missed this at the time - or forgot about it - but coming back now I had to solve the puzzle. I'll put the page number in the footnotes to give you time to figure it out.
So, there's this hymn in Latin:
Alleluia, dulce carmen,
Vox perennis gaudii,
Alleluia vox suavis,
Est choris cælestibus,
Quem canunt, Dei manentes
In domo per sæcula.

Alleluia læta, mater
Concinis Ierusalem,
Alleluia vox tuorum
Civium gaudentium :
Exules nos flere cogunt
Babylonis flumina.

Alleluia non meremur
Nunc perenne psallere,
Alleluia nos reatus
Cogit intermittere,
Tempus instat, quo peracta
Lugeamus crimina.

Unde laudando precamur
Te beata Trinitas,
Ut tuum nobis videre
Pascha des in æthere,
Quo tibi læti canamus
Alleluia iugiter. Amen.
This was translated by John Mason Neale in 1851 as:
Alleluia, song of sweetness,
Voice of joy, eternal lay;
Alleluia is the anthem
Of the Choirs in Heav'nly day,
Which the Angels sing, abiding
In the House of God alway.

Alleluia thou resoundest,
Salem, Mother ever blest;
Alleluias without ending
Fit yon place of gladsome rest;
Exiles we, by Babel's waters
Sit in bondage and distress'd.

Alleluia we deserve not
Here to chant forevermore:
Alleluia our transgressions
Make us for a while give o'er,
For the holy time is coming
Bidding us our sins deplore.

Trinity of endless glory,
Hear Thy people as they cry;
Grant us all to keep Thy Easter
In our Home beyond the sky,
There to Thee our Alleluia
Singing everlastingly. Amen.
There is a modern tune called Dulce Carmen which goes really well with the English. However, being a Gregorian chant nut, I had to look for the chant for the Latin.
I have a copy of J M Neale's book The Hymnal Noted which has the chant tunes paired with the English texts. So after all his painstaking work translating Latin into English, here I am lifting the old melodies and putting them back with the Latin text.
And here are the results: