Hymn to St Mary of the Cross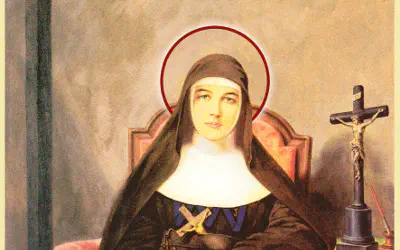 A hymn to the first saint of Australia in a simple traditional metrical style. St Mary of the Cross is commonly known by her name before religion - Mary MacKillop. Start singing it now to prepare for her feast on the 8th August.
O Mother Mary of the Cross
The first Australian saint, we hail.
Thy work to lead the poor to truth
Awaking mercy in thy trail.
Thou ever soughtest Joseph's aid,
Strong in the faith that he would be
An advocate to that dear Heart
That bled and died upon the Tree.
The Tree of life, the Cross of death
To which thy name and life were bound,
The paradox that pain and strife
To everlasting joy redound.
O Mary! intercede for us
And form us to His holy Will
With Father and the Holy Ghost
And Heart of Jesus burning still.
Veronica Brandt (1979-)
Here's a rendition using the tune Creator Alme Siderum.
Sheet music for a OMotherMarySimple (pdf)
Any Long Meter tune will do. I've picked Rockingham since it's new-ish to me. When I was nutting out the words I had the tune for Creator Alme Siderum in my head.
Also brand new setting by Charles H Giffen.
Feedback on this is most welcome.

Hymn to St Mary of the Cross by Veronica Brandt is licensed under a Creative Commons Attribution 4.0 International License.
This beautiful image comes from Papa Stronsay Pictures.