Fabiola - a Tale of the Catacombs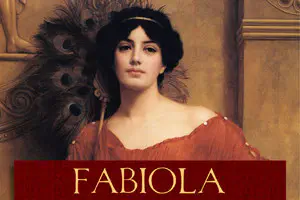 A legendary book that I was overjoyed to find in an Op Shop way back in 2001 (before kids). Something about pre-natal check-ups and waiting rooms meant that I read a lot of books that year.
The book brings to life the story of Sts Agnes, Sebastian, Tarcisius and Pancratius and a few others for good measure. The author drew on his own familiarity with the Catacombs of Rome and then current research (1850s).
It has been adapted into a movie or two - an Italian silent movie from 1918 and a later Franco Italian movie from 1949.
It is also available as a free audiobook on Librivox.
And I have just made a cheap paperback reprint through Lulu. I used scans from the University of North Carolina, via the Internet Archive of an edition from 1854!
My Op Shop copy is falling apart (and it's only from 1962!) so I'm really looking forward to this new reprint that I can hand to my kids without worrying about losing the pages.
There were a few spin off novels - not by the same author. Callista by Cardinal Newman and I also have a book about Perpetua and Felicity called Fabiola's Sisters. The time affects the style, so they start off feeling a tad melodramatic, but you become acclimatized after a while.
Also available as an illustrated ebook from Project Gutenberg! I helped on this book with the pgdp (Project Gutenberg Distributed Proofreaders) which is a great cause to volunteer your free time and read random pages from old books.